Training the Omani engineers of the future.
Eight young omani engineers from Duqm, Al Jazer, Mahoot and Haima (Al Wusta Region) have just joined Técnicas Reunidas to work with our engineers and take part in "Duqm Refinery Project EPC-1".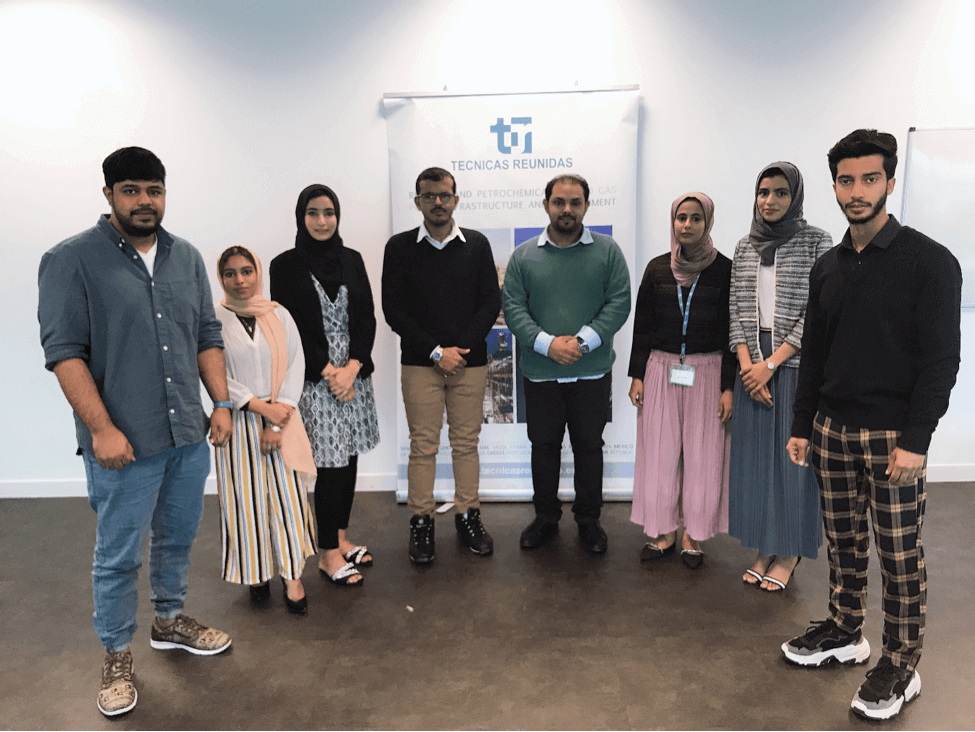 They are four women and four men, a relevant piece of information, as it shows the positive evolution of women's presence in the corporate world. All are graduates of different engineering disciplines. The group arrived in Madrid on March 18th2019 for a traineeship program of six months, within the framework of the Omanization policy of the Sultanate of Oman, and the Social and "In-Country Value" Strategy. They are part of the Engineering Project Team in the Home Office, and after the training period in Spain, they will be part of the Engineering Team on Site, working for the Project.
The process started in Oman back in October 2018. The CVs were collected from our Client, Duqm Refinery, during the ICV Roadshow that took place in Muscat and Duqm during that time.
The group has been pre-selected from a huge number of candidates in Oman by our Human Resources Department in Muscat. After the initial selection phase, the final decision was taken in Madrid, in coordination with the Project Direction and the Human Resources Department of Técnicas Reunidas. The apprentices have been selected by their skills, their knowledge, and their willing to work in Spain. Técnicas Reunidas has selected them with the aim of giving them the best training possible so that they can use the knowledge acquired when they return home and begin working on site.
Duqm Refinery Project EPC1 is part of the Omani government plan for the industrial development of the Special Economic Zone of Duqm, which includes the new grassroots refinery, with an overall investment of 15,000 million USD in the coming 15 years and already includes a dry dockyard, harbour and related infrastructure, such as roads and utilities. The refinery is the key project of the area.
The project is developed at TR´s offices in Madrid, having TR as the majority partner of the Joint Venture with a participation of 65%.
Duqm Refinery and Petrochemical Industries Company (DRPIC) is a Joint Venture between the state-owned Oman Oil Company (OOC) and Kuwait Petroleum International (KPI), the international subsidiary of Kuwait Petroleum Corporation (KPC).
Técnicas Reunidas is one of the leading international engineering and construction companies in the oil and gas, refining, petrochemical and power generation sectors for a wide variety of clients around the world. Since 1960, it has designed and built more than 1,000 industrial plants in more than 50 countries.